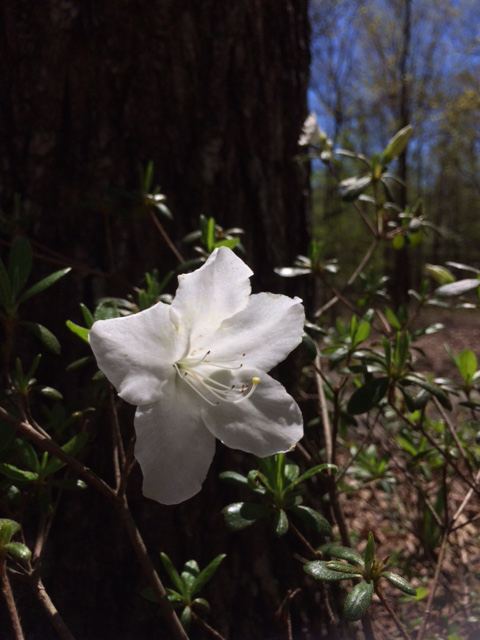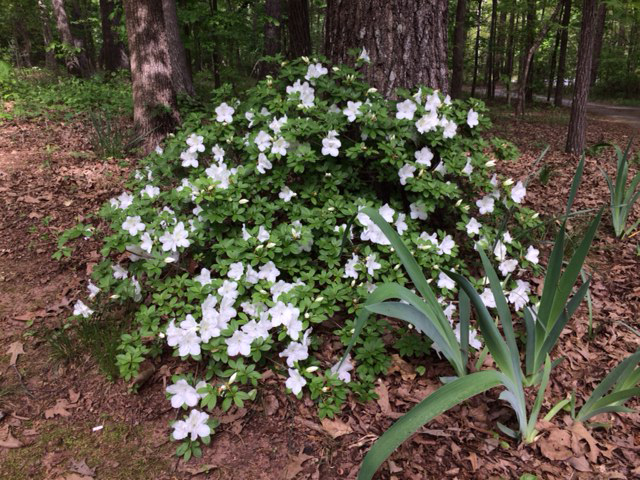 Through the process of writing & researching this post, I made some lovely connections to my past, and some new roads into the future. I started to post some pretty pics, and talk about the white azalea in the front yard. I found myself thinking about my Mom Alawayne and her love of the native, wild azaleas that grew around our home, in the Appalachian mountains of Western North Carolina.
I wanted to find her favorite wild azalea. A brilliantly orange beauty we hunted the mountainsides for on every walk or drive. They are rare and magical. When you encounter a towering, wild, native azalea, a moment is taken to honor the blooming beauty. They stand very tall in my memory- not much like the lower growing bush above. The flowers too are quite different, with flowers in clusters and longer stamens. Mom & granny Hazel called them wild honeysuckle. Well, Mom's "wild honeysuckle" is 'Rhododendron calendulaceum' or the "Flame" azalea. (links to a photo from ARS Website)
The photo is from the Middle Atlantic Chapter ARS Species Study Group's website – a fantastic azalea identification tool. As a bonus for me, there is info. and pictures of the Flame azaleas from Macon Co. North Carolina. They kinda resemble the honeysuckle with the extended stamens, but are not related. Also, there is a "Honeysuckle azalea" to make things more confusing. But the Flame azalea is not the same as the Honeysuckle azalea.
Native Azaleas vs Non Natives
The native to the East Coast azaleas are deciduous-they lose their leaves in the winter, but not the evergreen cultivars like the 'Delaware Valley White' or the 'Formosa' magenta one below-which are originally from Asia.
I have identified these varieties to the best of my ability, but if I am wrong please let me know! Deer don't seem to like them at all. The leaves are poisonous. But the deer definitely eat my rhododendron leaves? Since azaleas are in the Rhodo family that seems odd. Butterflies seems to like them.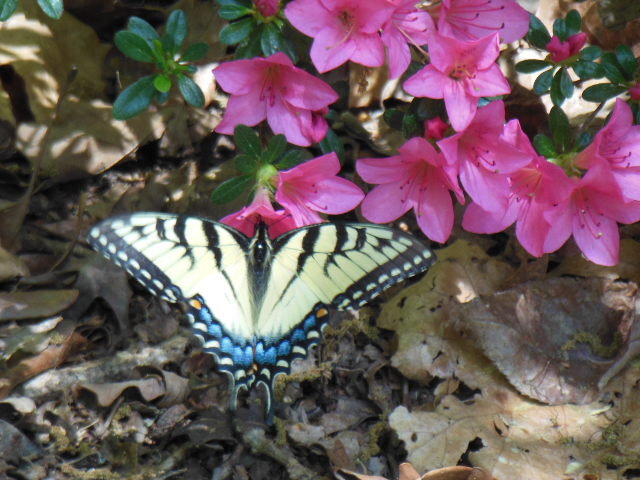 The 'Delaware Valley White' bloomed this year on March 28th- a full 3 weeks earlier than last year. Must be the warmer winter and mild early spring.
Future post Teaser. These two "Southern Indian (or Indica)" cultivars were created at a place called Magnolia Plantation. I've just discovered the pre-Revolutionary location has an incredible "Romantic Garden"- one of the only ones left in the US. I am going there, and will document my garden findings soon!
See the link below to the University of Georgia's Extension Offices Publication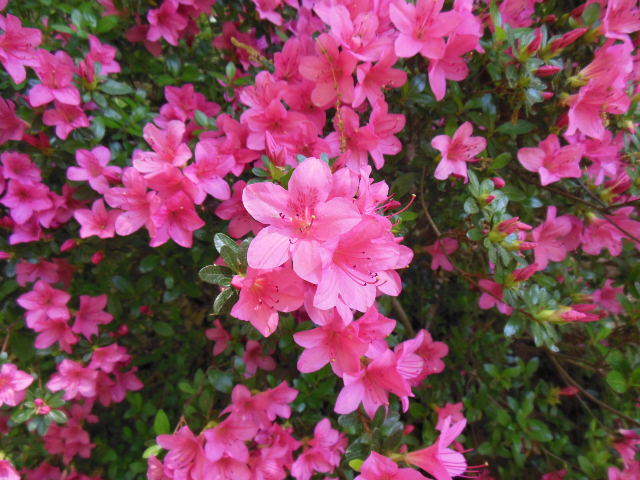 This is an incredible and comprehensive guide. I'm very thankful for the great resources provided by UGA about gardening in Georgia.